The 19th Step Project
Led by composer Dorothy Ker, choreographer Carol Brown, sculptor Kate Allen and mathematician Marcus du Sautoy, The 19th Step is a performance-based research project exploring different ways the 'languages' of music, dance, sculpture and mathematics can talk to each other. In the context of theatre we discover synergies that cut across discipline boundaries to reveal new ways of understanding space and the shared nature of questions around space.
A series of workshops in 2006-7 initiated a bold dialogue bringing a mathematician into the performance studio. The tools which mathematics uses for conceiving space can be explored through musical, choreographic and sculptural content, text and formal structures. Texts of the 20th Century Argentinean writer Jorge Luis Borges have been our meeting point and the basis for developing our dialogue through performance.
Biographies
Dorothy Ker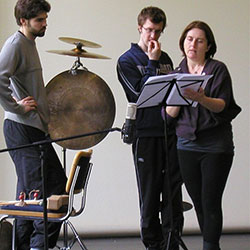 Dorothy Ker's music is performed and broadcast internationally and has been heard at international festivals in Auckland, Belfast, Huddersfield, Switzerland, Perth, Taipei and Seoul, in London and on BBC Radio 3. Her music has recently been celebrated with a new CD 'diffracted terrains: Chamber Music of Dorothy Ker' performed by the leading ensemble Lontano on the Lorelt label. Her interest in space and the ways thinking about space and time are shared across disciplines has led to ongoing dialogues with sculptor Kate Allen, mathematician Marcus du Sautoy and choreographer Carol Brown from around 2001. She collaborated with Kate Allen on two mixed-media works for live performance 'DT:remix' (Transversalities Conference, Reading, 2005) and 'gps for a known place' (Sound Junction, University of Sheffield, 2006). The opportunity to bring this group and the various threads of investigation together came with an award from the Gulbenkian Foundation for early-stage research under the title 'Performance in Transit' (2006-2007). She is a Research Fellow in Music at Sheffield University.
Carol Brown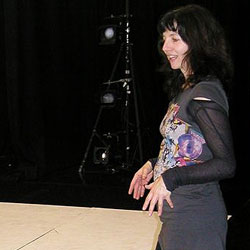 Carol Brown is an award-winning choreographer, Artistic Director of Carol Brown Dances and a Reader in Dance at Roehampton University. Her work is practice-led and evolves through collaborative research with artists and practitioners from other disciplines, in particular architecture, music, mathematics, computer science and the visual arts. She has received numerous awards including, a Jerwood Award for Choreography, an AHRB Research Fellowship in the Creative and Performing Arts, an Arts Plus Award and a Capture Award from Arts Council England, and a NESTA Dream Time.  Carol Brown Dances receives regular support from Arts Council England through its National Touring Programme and tours with the British Council.  In 2003 Carol was awarded the Ludwig Forum International Prize for Innovation.   Carol's research field is concerned with opening questions of space for dance and her productions, through Carol Brown Dances have been presented throughout the world. Recent works choreographed by Carol Brown include Her Topia (British Council, Athens 2005); Aarero Stone (New Zealand International Festival 2006); the interactive dance event, SeaUnSea (Dance Umbrella 2006); GLOW, a large-scale site specific work commissioned by LightBox, for Woking Dance Festival (2007); and Dancing Aloud 2007) a solo performance lecture for Tempo Dance Festival, New Zealand.
Kate Allen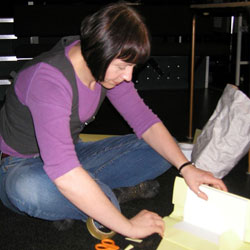 Kate Allen trained as a sculptor at Chelsea College of Art and Design. Her practice explores the relation between real and virtual sculpture and the role of new technologies as part of community consultation.  Her work investigates materials, image and the mediation of culture, often using new technologies, working in collaboration with other disciplines and with community groups. Discussions from the 19th step research group workshops led to the creation of a meeting place for the 19th step research group in the virtual world of Second Life, which was featured as a RIBA Architecture Week 2007 project and exhibited at the Design Museum London. Allen is a former British School at Rome scholar and lecturer at the University of Reading; She often works to commission producing community consultation and public art projects. In 2006 she was awarded an AHRC creative arts small grant for 'auraproject'.
www.auraproject.net/aura/index.php?title=User:Kate
Marcus du Sautoy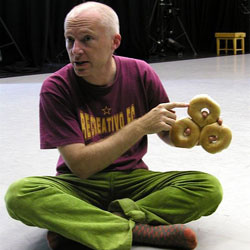 Marcus du Sautoy is professor of mathematics at the University of Oxford and winner of the prestigious Berwick prize of the London Mathematical Society. His research explores the boundary between number theory and group theory and has been published widely in prestigious journals like the Annals of Mathematics and 
Publications of the IHES. As a Senior Media Fellow of the EPSRC du Sautoy is constantly looking for innovative ways to communicate ideas of mathematics to a broader audience. He is author of the best selling book 'The Music of the Primes' and has just published a new book called 'Finding Moonshine: a mathematician's journey into symmetry'. In 2007 he wrote and presented a radio series for BBC Radio 3 about mathematics and music, which was informed by the dialogue that du Sautoy has had over the last few years with composer Dorothy Ker. du Sautoy was involved in Complicite's  'A Disappearing Number' (2007) that explored the world of mathematics through the fascinating collaboration between the Cambridge mathematician GH Hardy and the Indian mathematician Srinivasa Ramanujan. All of these activities have explored new ways to bring mathematics alive and more particularly to explore the aspect of performance mathematics.  The 19th Step looks to bring all these strands to fruition to see how far one can use the theatrical space to bring mathematics alive as performance.